Screenshots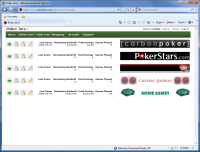 Poker Jars Summary
This is a summary of all of your Poker Jars, as well as your bankroll and limit totals.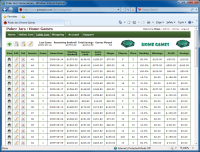 Home Games Poker Jar
This is a running history of all of your games at a specific venue.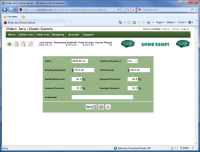 Input Startup Values
This is where you set your starting bankroll, or make any adjustments to the individual Poker Jar.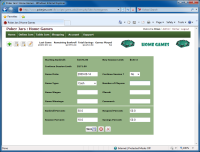 Add Game
You can add each game from here.
You can choose to add the overall session as a single game, or track individual games in a single session. The "continue session" option allows for this, and will group all games for that session together.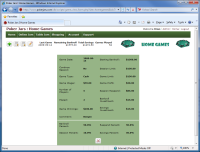 View Game Details
View details of past games.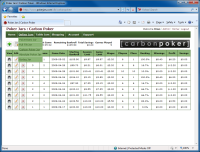 Unique Poker Jars
Each venue is available from the menu with individual Poker Jars.


---
Example 1
Let's say your entire starting bankroll is $10,000. You walk into the poker room at your favorite casino at 7:00 PM on a Tuesday. You should begin this session with $1,000 (10% of $10,000). Remember, this money should last about 24 hours, so let's not plop the entire wad on a $20/40 table just yet.

Since your limit for the day is $1,000, you would probably only want to risk about 10% of the entire day's bankroll in a single game (or tournament). So you might just want to wait until your bankroll is a little higher before dropping the entire thousand on a WSOP Satellite.

OK, we are feeling a little smarter, and now we need to select a game that fits our budget. Realizing you now have a budget, and are sticking to it is the critical part of your success.

So, our entire bankroll was $10,000, and our limit for this day's session is $1,000. This means that our limit for our first game will be about $100 (10% of $1,000). Now, hopefully you can find a seat at a $1/2 table without much waiting, and we're off to prove our system.

Starting a game with 1% of your entire bankroll can be a little humbling, but will also give you the necessary courage to push all in on the guy that can't stop bluffing.

What happens if we lose this $100? Well, now you have 9 more chances to turn your luck around. Try another table, or maybe there's a $100 Sit-n-Go coming up. You could take a dinner break, or just buy right back in at the same table. The idea is that by risking only 10% of your starting stack in each game, you will have a 1 in 10 chance to earn a profit.

Allright, you have demonstrated great control, and played your heart out. It is now 5:00 AM on Wednesday and you've been playing all night with your starting $1,000.

You've been up, and down, but somehow the whole $1,000 is gone. But wait! You just remember that there are 9 more wad's of $1,000 up in your hotel room safe. The rest of your entire bankroll.

This is where your discipline has to kick in, because there's nothing Poker Jars can do to stop you.

BUT, think about this... You just lost $1,000 by playing poker for 9 hours. The odds are very good that the next $1,000 won't even last that long. This would be a really good time to call it a night, and start fresh tomorrow.

This is where the system is most effective. It helps you to be rewarded for your wins, and minimize your losses, by enabling you to effectively control your bankroll. Every poker player has losing streaks, but Poker Jars can help you avoid risking everything during a bad streak.

**Since the minimum buy-in at most casino poker games is about $40-$100, you should consider saving up a starting bankroll of $4000-$10,000 before you consider yourself a professional casino player.
See if you can find a lower limit home game, or maybe even start your own home game with some friends.
Online Poker is a great place to get started, since many games have very low buy-in requirements of $1-$2/game.