The Poker Jars Project

Our vision has been defined, our business plan has been written, our excitement is out of control, but our funding is limited.

We need your help to make this system succeed!
1. Summary
The goal in Phase 1 is to set up a fully functional online bankroll management system as follows:
1.1. Website
Create an informative Website that explains the concept of PokerJars in detail and allows users to sign up for PokerJars Bankroll Management.
1.2. Online database
After signing up for PokerJars Bankroll Management users can log into the database and use the sys- tem by entering all of their bankroll and games information.
1.3. Mobile applications for Windows Mobile, iPod Touch, and Android
These applications give access to all functions of the online database and should work in online as well as in offline mode. If online, entered data will be synchronized in real-time, if offine, data will be synchronized upon connecting to the internet.
1.4. Browser version for other mobile devices
Users of mobile devices, that do not have a PokerJars application provided for, can use the standard browser when online to log into the database and enter their information.

There are several tasks that must be done before the programming of the applications can begin:
Logo design
Website concept
Defne and write content for each page, develop a navigational structure.
Design of the GUI (graphical user interface) for all applications
It is planned to use the knowledge, reputation, and face of a professional poker player in order to promote PokerJars and also the Pro. This has to flow into the GUI/concept
2.1 Current status of development
A beta version of the Poker Jars system already exists. The owner of the idea, Brian Becker, has been using this system himself for over a year with great success. The beta version gives information about bankrolls for each type of game, sets a limit for each session, manages savings, and allows the player to keep track of additional information (location of the game, date, number of players, etc.) The player can set the defaults for savings and spending percentages for each type of game separately.
This beta version is not yet ready for public use since several things still have to be considered and implemented: secure user management, possible integration with pay services, improved usability, branding, etc.
3.1 Costs
The costs associated with the startup of PokerJars, and initial launch of Phase 1 should be minimal in relation to setting up any business. Offce Space will not be required, which should greatly reduce startup costs. The fgures below are extremely rough estimates, but can be used to approximate the effort that will be required.
Legal Fees - $9000
Application/Database Design - $50,000
Website - $18,000
Marketing - $36,500
Internal Expenses - $72,000


Total cost - $185,500
---
Supporting Information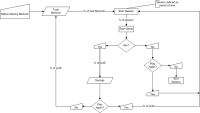 PokerJars Flowchart
Examples bankroll tips:
blindbetpoker.com/tips/bankroll-management.html
pokerjesusonline.com/bankroll_management.htm
texasholdem-poker.com/bankroll-management
chrisferguson.com/article-4
flopturnriver.com/Bankroll-Management-101.html
playwinningpoker.com/poker/bankroll/management/
Examples bankroll tracking:
sharkscope.com/
pokertracker.com/
pokerscore.co.uk/
pokercharts.com
pokerdominator.com
casinobankrollpro.com